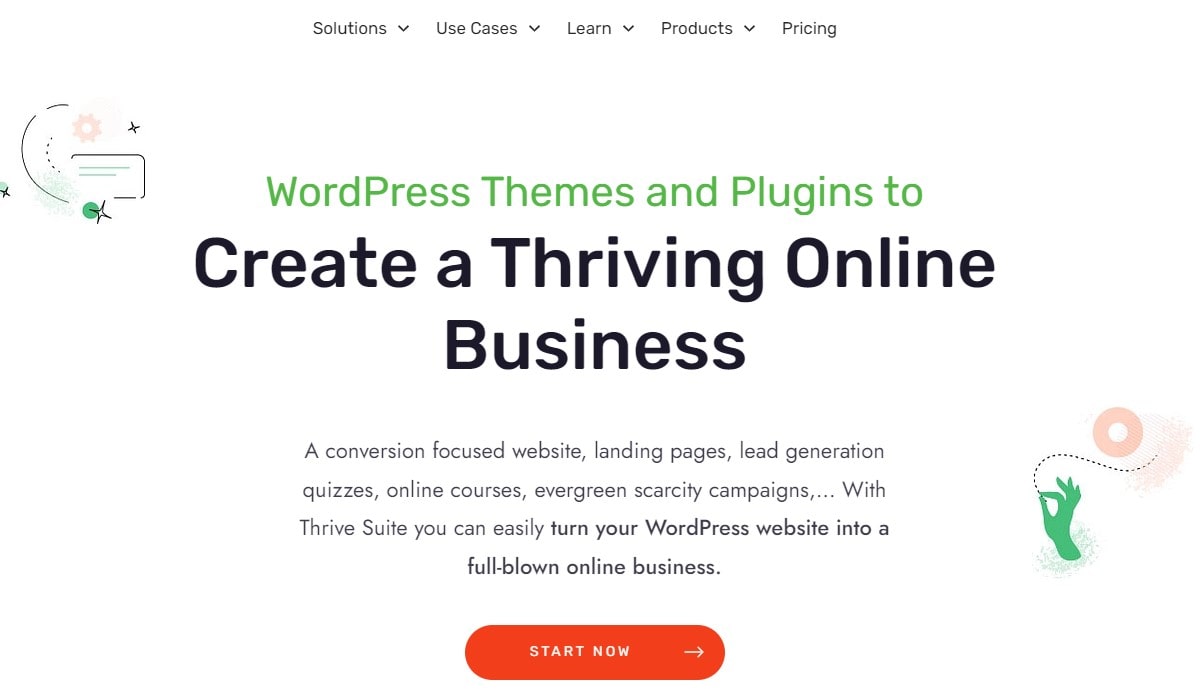 Are you tired of using themes that fail to deliver on their promises? Are you looking for a theme that can help you generate more leads, boost conversions, and enhance your website's functionality? Look no further than Thrive Suite! In this review, we'll look at the features and benefits of Thrive Theme, which is one of the most popular WordPress themes and WordPress website builders available.
What is Thrive Themes?
Thrive Themes is a WordPress theme known for its conversion-focused themes, plugins, and marketing tools to help you grow your online business. Unlike many other theme builders, which are simply the themes themselves, Thrive Themes gives their users a suite of products to use to not only design their site but also assist in marketing efforts.
If you're serious about marketing your business online, Thrive Themes is worth checking out.
How good is Thrive Suite?
Any tool comes with its pros and cons; let's consider them before deciding whether it's good or not for your website.
Pros
All of the tools and plugins are drag-and-drop built, super easy to use, and integrate well with each other.
A variety of pre-built templates and themes.
Constant updates.
Good customer service.
A/B testing to figure out what's performing better.
Templates and elements have a mobile-responsive design.
Integrates well with tons of marketing tools, thereby making your marketing game strong.
Cons
No payment process integrations. External payment systems like SamCart and SendOwl can be used.
Works with WordPress only and no other CMS.
With more pros and less cons, it is evident how good is Thrive suite, but before you decide to take up the Thrive Suite membership, let's first explore all that it has to offer to improve your website's performance.
10 Thrive theme plugins of Thrive Suite:
Thrive Theme Builder:
It helps you build the professional-looking website that you have always wanted.
Even if you are an amateur, the site setup wizard will guide you through the process, and in minutes you will have your website ready and running.
You can customize your website as per your requirements by choosing from the various pre-designed sections and templates.
Thrive Architect:
A conversion focussed page builder that helps you build landing pages, website pages, and blog posts faster.
With its 250+ fill-in templates, it's easier than ever to create landing pages that drive more leads to your website.
Every customization is just a single click away, you click on wherever you want to edit, and it gives you many options to choose from, and in a single click all your edits are done.
Thrive Leads:
A lead generation plugin that helps in the easy implementation of conversion-focused opt-in forms on the website and in building your email lists.
Everything that is needed to attract and inspire the visitors to sign up to the emails is included, thereby engaging the visitors and converting them into customers.
It comes with around seven different types of opt-in forms: popover, notification bar, etc., you can choose any.
Thrive Optimize:
An A/B testing add on for Thrive Architect helps you test your pages side by side and evaluate which is performing well.
It helps you compare hits on different landing pages and guides you in making the choice that is right for you and your customers.
*Elementor lacks this A/B testing feature.
Thrive Quiz Builder:
Who doesn't love quizzes? You love it more when you are rewarded with badges that you can share on social media sites.
This allows you to interact with your visitors, and the social sharing will increase traffic to your site and increase the number of subscribers.
Thrive Ultimatum:
A simple plugin that allows you to use the concept of scarcity to sell products, the fear of missing out, as shown by the countdown timers, will compel visitors to purchase it right away.
In Leadpages A/B testing, quizzes, scarcity marketing, and reporting are unavailable.
Thrive Ovation:
A plugin for adding service testimonials, with a single click of a button, you can get the name, picture, and comment that can be used as a sales page testimonial.
This will help boost your sales, as prospects turn into potential customers by looking at the feedback that others have given.
Thrive Comments:
You can build an army of engaged visitors through this plugin. First-time visitors are given a free token of appreciation in order to entice them to return.
Its features, like upvoting and downvoting, help your blog post turn into a good marketing tool.
Thrive Apprentice:
This plugin helps you create professional online courses with ease.
Offering free courses will boost your subscribers, and selling premium courses will boost your revenue.
Thrive Automator:
This free plugin helps you connect your favorite tools and plugins, and builds workflows to transfer data between different apps, plugins, and services.
This gives you the ability to start automations when users log in, complete a form or a course etc.,
By going through all the amazing plugins listed above, you may have convinced yourself to buy the Thrive Suite membership. If you said yes, your choice is right.
When compared to other page builders, the Thrive Theme stands out because it offers marketers an all-in-one solution.
Divi Builder, indeed, though professionally drafted with premium features, isn't as easy to operate as Thrive Themes.
You can control your marketing and creation in Thrive Suite, unlike Clickfunnels, which is dependent on a cloud-based platform.
Pricing
Thrive Suite membership, costs as low as $19 per month and $299 annually, which is pretty decent when compared to ClickFunnels at $97 per month, and Leadpages at $48/month.
Membership comes with all the plugins that can be used on 5 websites, Thrive Theme Builder with bookwise, shapeshift, and kwik, 24/7 support, and access to Thrive University with a 30-day money-back guarantee.
If you are a small business owner, a personal plan that supports up to 5 websites with all plugins would be great for you.
If your business is medium-sized, a business plan that supports up to 25 websites would be a fit.
For marketing agencies and large businesses, an agency plan with unlimited use that supports up to 50 websites would be the best, priced at $599 annually.
Without going for the membership, you can even buy the plugins individually. In my opinion, suite membership is a great way to get all of the desired features at once.
Wait, it's not all over yet. To avail of some good discounts on Thrive Suite check out here.
Conclusion
In conclusion, Thrive Suite is a great choice for anyone looking to create an attractive and well-constructed website, especially for marketers, as it is compatible with many marketing tools that will convert visitors to customers and boost their sales and revenue. Its easy-to-use drag-and-drop editor makes it simple to get started quickly.
Best of all, Thrive Suite comes with a 30-day money-back guarantee, so you can try it risk-free and be sure that it meets your needs.