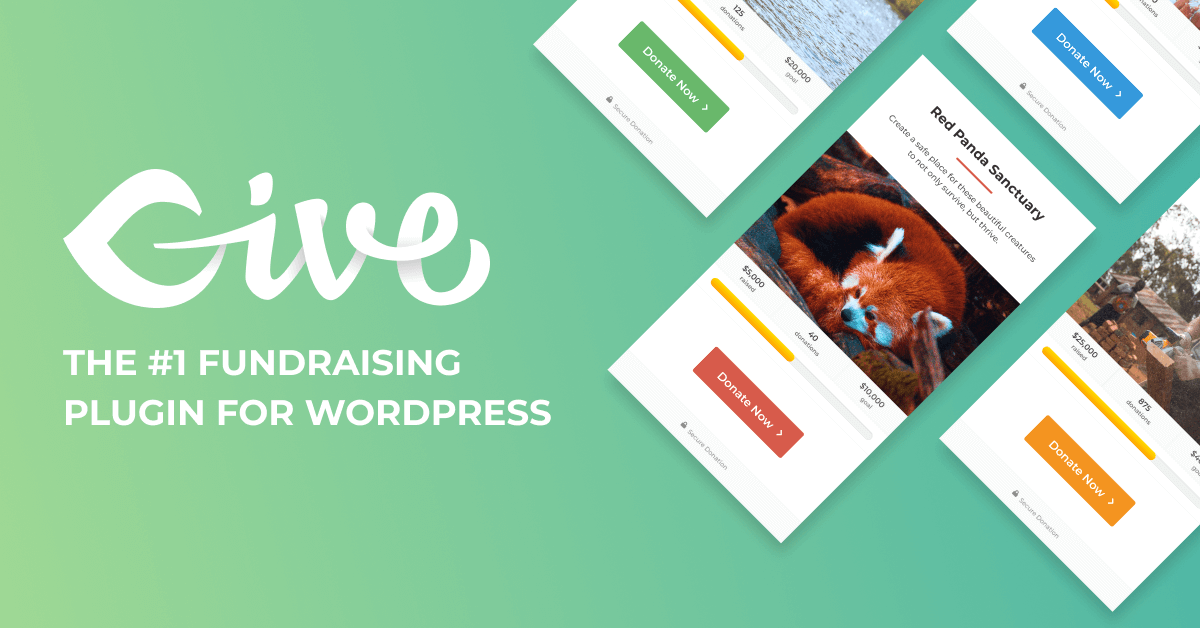 As a WordPress user, you know how the right plugin can make the difference between success and failure for your website.
And do you look for a right and best WordPress donation plugin to accept donations on your WordPress websites?
In this regard, GiveWP stands out as one of the best WordPress donation plugins available today.
With robust features, intuitive design, and excellent support, this plugin offers a unique solution for nonprofit organizations.
In this article, we'll look at GiveWP review and evaluate its key features. We'll also discuss its pros and cons to help you decide if it's the right solution for your business or organization.
Finally, we'll provide detailed information about its suitable plans to help you decide which plan works best for you. In short, our goal is to provide readers with an impartial GiveWP review that will enable them to decide whether this plugin is a good fit for their needs. So let's get started!
How Givewp Works?
GiveWP is a reliable WordPress donation plugin gaining traction for its ease of use, comprehensive features, and top-notch customer support.
This plugin allows you to create custom donation forms on your website and track donations from donors worldwide. Its users can also gain insights from detailed fundraising reports, enabling you to optimize your fundraising activities.
The biggest strengths of GiveWP are its straightforward setup process, robust features, and competitive pricing plans.
As a powerful fundraising solution for WordPress users, GiveWP offers various useful features that make it one of the top choices in donation plugins.
From its user-friendly interface to its seamless donations dashboard, GiveWP review puts user experience at the forefront.
It also provides a content restriction feature to restrict access to any images or text on your pages based on donation level or amount. And with various flexible pricing plans, there's something for everyone—no matter what your budget is.
Features of GiveWP Review Plugin
Fully Customizable Donation Forms
The customizable donation forms allow you to collect donations quickly and securely. From single-step donation forms, to multi-step donation forms, to custom recurring donation forms, GiveWP has everything needed to create the perfect donation form for your charity or organization.
Secure Payment Processing
GiveWP is integrated with a number of payment gateways, including PayPal and Stripe. This allows donors to make secure payments using either credit card or bank transfer.
All payments are securely stored and encrypted with 256-bit encryption technology, ensuring your donors' financial information is always safe and secure.
Advanced Reporting & Analytics
GiveWP provides detailed reporting and analytics so you can gain valuable insights about donor behavior. You can see how many people have donated in any given time frame, where they are from geographically, the average amount donated, and more.
This data can be used to inform fundraising strategy and improve donor engagement.
The donor management tools come with this plugin make it easy to manage donor profiles, track donations over time, segment donors by gift amount or other criteria, and more.
This also makes it easy to track important metrics like lifetime value (LTV) of donors as well as design targeted campaigns based on previous giving behavior.
Review & Ratings plugin with Advanced Filtering and Sorting
The review plugin is integrated with the popular GiveWP donation plugin, which means you can easily collect reviews from your donors and use them to inform your fundraising strategy.
This Review Plugin also comes equipped with advanced filters and sorting features that enable you to sort reviews based on criteria such as date, rating, or specific keywords.
Finally, the GiveWP Review Plugin can also help improve your online visibility by enabling you to collect and display reviews, which can boost your search engine rankings and increase your overall online visibility.
Pros of the GiveWP Plugin
Easily Customizable: This is a powerful and versatile WordPress plugin that is easy to customize for your website's individual needs. It allows you to create custom donation forms with a drag-and-drop editor, giving you full control over the look and feel of your online donation page.
Extensive Payment Options: Donors will get the freedom to choose from multiple payment methods, including popular credit cards and e-wallets like PayPal and Apple Pay. This flexibility makes it easier for donors to give what they can when they can.
Advanced Reporting: With built-in reporting and analytics, you can track donation progress in real time and analyze donor metrics such as total donations, average donation amount, and more.
Automated Communications: Automated communication system is the most useful feature fo you because, which sends thank you messages, receipts, follow up emails, etc., to donors after each successful transaction.
Secure & Reliable: Donor data security is paramount in any online platform that handles money transactions – something that gives great peace of mind when using GiveWP!
Therefore, with the right plan and some patience during setup, GiveWP could be a great choice for your donation platform needs.
Which GiveWP Plan is Right For You?
Organizations have different requirements regarding the type of WordPress donation plugin, such as free or paid plugins suitable for small charities or organizations.
Basic:
Costs $149 yearly for a single site license. 
Includes all basic addons, payment gateways, and priority support.
This Plan includes basic donation forms, reporting tools, and donor tracking which is best suitable to individual fundraiser or small non-profit organization. 

Plus: 
Costs $349 yearly for a single site license. 
Everything in Basic plus includes all premium addons, recurring donations, and fundraising website audits.
This Plan includes basic donation forms, reporting tools, and donor tracking which is best suitable to individual fundraiser or small non-profit organization.

Pro: 
Costs $499 yearly for a single site license. 
Everything in Plus, along with peer-to-peer fundraising and VIP support.
This Plan gives access to powerful tools like email customizations and multi-currency support. Leaning on the size of your organization and how many donations you receive each month, any of these plans can help streamline your donor management process.

Agency: 
Costs $599 yearly. 
Everything in Pro that you can use for up to five site licenses.
This plan includes 5 site licensing, which users can expand as per their needs. Tools provided are the same with both the Pro and Agency Plan. However, users can operate 1 site under the Pro plan. Hence, if you are operating NPO at a large scale, a recommendation for Agency Plan is suitable.
Even without accessing to any plan, you can also start generating fund for free.
Head over to "Plugins > Add New" on your WordPress website and search for "GiveWP" to install the free plugin.
With the powerful features showcased in the comparison table, you'll be off to a great start with the best donation plugin for WordPress. All add-ons require the free plugin to be installed, so get GiveWP now, free of charge!
Hold up, you haven't missed the boat just yet! Head over to Couponupdater – the best spot to get coupons and discounts on GiveWP donation plugin – to get access to some great deals!
Conclusion:
GiveWP the best donation plugin for WordPress, is an excellent option for nonprofits organization who wants a simple way to create recurring donation subscriptions for their supporters. Its intuitive interface and powerful features make it easy to track donations and ensure that money flows in regularly.
The biggest advantage of using GiveWP that it automates the process, which saves time and money while improving the donor experience. With powerful analytics tools users now can track donor engagement and campaign performance.
If you still want to have an alternate plugin, check here for the list of best donation plugins.